Edited by Lowell Jaeger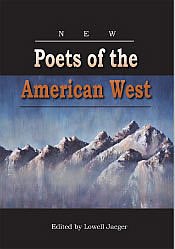 This anthology is a panoramic (and revealing) view of the West through the eyes of more than 250 poets and 450 poems, including poems in English, Spanish, Navajo, Salish, Assiniboine and Dakota languages.
Collected here are poems about horse racing, mining, trash collecting, nuclear testing, firefighting, border crossings, buffalo hunting, surfing, logging, and sifting flour. In these pages you will visit flea markets, military bases, internment camps, reservations, funerals, weddings, rodeos, nursing homes, national parks, backyard barbecues, prisons, forests, meadows, rivers, and mountain tops.
In your "mind's eye," you will meet a simple-minded girl who gets run over by a bull, two mothers watching a bear menacingly nosing toward unsuspecting children and children who "have yet to be toilet trained out of their souls." You will learn to "reach into the sacred womb, / grasp a placid hoof / and coax life toward this certain moment." You'll teach poetry to third graders, converse with hitchhikers, lament for an incarcerated brother "trying to fill the holes in his soul / with Camel cigarettes / and crude tattoos." You will sit at the kitchen table where perhaps the world will end "while we are laughing and crying, eating of the last sweet bite." In the short time each of us has in this world, here's your chance to experience life widely and to reflect on your experiences deeply.
Poets include: Kim Addonizio • Sandra Alcosser • Sherman Alexie • Jimmy Santiago Baca •Ellen Bass • Jim Barnes • Marvin Bell • James Bertolino • Sherwin Bitsui • Judy Blunt • Christopher Buckley • Henry Carlile • Maxine Chernoff • Marilyn Chin • Katharine Coles • Mary Crow • Matthew Dickman • Gary Gildner • Rafael Jesús González • Dana Gioia • Samuel Green • Mark Halperin • Sam Hamill • Joy Harjo • Jim Harrison • Jane Hirshfield • Garrett Hongo • Christopher Howell • Linda Hussa • Lawson Fusao Inada • Mark Irwin • Lowell Jaeger • Ilya Kaminsky • Melissa Kwasny • Lance Larson • Dorianne Laux • David Lee • Philip Levine • Adrian C. Louis • Clarence Major • Ron McFarland • Sandra McPherson • Jane Miller • Dixie Partridge • Simon Ortiz • Carol Muske-Dukes • Robert Pack • Greg Pape • Lucia Perillo • David Ray • Lois Red Elk • David Romtvedt • Alberto Rios • Pattiann Rogers • William Pitt Root • Wendy Rose • Vern Rutsala • Kay Ryan • Reg Saner • Leslie Marmon Silko • Maurya Simon • Floyd Skloot • Gary Soto • Kim Stafford • David St. John • Primus St. John • Luci Tapahonso • Rawdon Tomlinson • Bill Tremblay • David Wagoner • Robert Wrigley • Al Young • and many more!